Basic Search Engine Optimization Techniques
Search Engine Optimization (SEO) is a system of methods used to obtain a higher ranking in search engines which generates a plenty of free traffic to the promoted website.
Needless to say, if a site is not visible in the first two or three search result pages, it is missing out a lot of visitors. Each visitor is a potential customer. Therefore, a site without proper ranking search engines and visitors is completely useless. SEO is a real panacea used to make sites rank higher in search engines and bring visitors.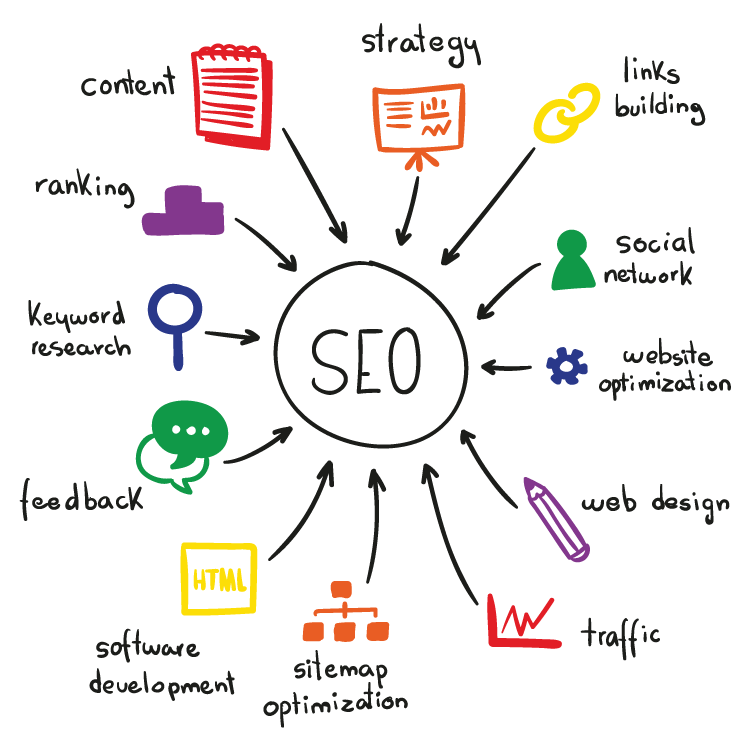 Is SEO expensive? Whether a site ranks high or low depends on a number of factors like competition, quality and quantity of content, number of inbound links, etc. Achieving high ranks in Google, or Bing requires a lot of time and work and it is often costly. If some simple techniques are employed at the stage of website development further SEO process can be more cost-effective and easier.
Here are some points to be considered:
Content
For most websites, content is the most important factor that affects their ranking in Search engines. Content should be informative and original. It should contain vital keywords related to the products and services that company or individual offers. It is recommended to vary keyword for each individual page so that it would apply to a specific product or service. Both users and search engine robots will love your site if its content is regularly updated. Links to other relevant resources will be helpful for visitors.
Titles & metatags
Proper titles and description of the content in metatags add more power to your site pages. Key words in a page title between tags are essential. Make sure that each individual page has its own unique title. Headlines within tags h1, h2, h3 should be concise, informative and contain proper keywords. Each individual page should not have more than one h1 tag.
Design
User friendly design is the key issue. In fact, the simpler site designs, the better. The purpose of design is to provide visitors with easy paths to site's section, categories and articles. All menus should be easy to navigate so that visitors would not get lost on your site.
Link building
Inbound links, or links from other sites can be likened to fuel that drives your site to the top of search result page. However, just as fuel can have high and low quality so inbound links can come from high or low quality websites. In fact, one should be very careful getting inbound links from other sites because often a wrong link can damage the whole SEO process.
SEO is a complex process. To achieve high ranking in search engines one should take into account all SEO factors affecting site visibility. We recommend keeping in mind the above SEO factors even at early stages of site development to avoid problems with search engines in the future. For more information contact us.
SEO for new sites
New sites do not have enough authority in search engines. What does it mean? It means that no matter how hard you try to find such a site in Google, it is as though as if it does not exist at all.
The problem is in Google's filters. Google does not know what new websites are trust worthy. Spammers create hundreds of websites to fill with generated content to make a quick buck thorough ads. To separate good sites from bad ones, Google uses a number of filters that prevent newly created site to get high ranking until it sees them as trusted.
Well, are there any means to overcome the Google filters? Of course. But when dealing with SEO you should not expect quick results. Ensure you follow the next steps to boost your website rankings in search engines:
Create a unique content with right keywords
Write or have somebody write articles with keywords related to your niche for your site.
If your site is new, forget about getting a high ranking for highly competitive terms. Instead you can choose less competitive keywords. For instance "affordable apartments in Toronto" instead of just "real estate" or "LCL air shipment" instead of just "LCL".
The more specific the term, the higher probability that the site will be found by a person looking exactly what your site can offer. Keywords analysis takes some time, but it is worth it.
Link-building
No incoming links, no high ranking. It is important to get incoming links from related sites. Inbound links make Google trust your site and empower it with higher ranking much faster than without incoming links.
Keep in mind that not every link adds up authority to your site, rather some can even have harmful effect.
Optimize your web pages
Titles, headers, robots.txt, sitemap.xml and whatever pertains to off-site optimization should not be forgotten. Identify what page of your site is most relevant to promote in search engines before you start the link-building process.
Sit Back and Relax!
SEO for a new site also requires some patience. Even if the above steps were taken, it does not mean your site will appear among 10 sites with highest ranking in Google. Give it some time. Proper SEO will take to the right place.
For more info on our SEO packages, feel free to contact us anytime.