Benefits of mobile app for restaurant businesses
Imagine having your favourite poutine restaurant giving you 40% discount on the next meal if you download their app. Would you come again to get use that discount? Sure you will and even bring your friends and family with you. Everyone loves discounts and loyalty programs especially when it's always available in their pocket.
Get your Restaurant Ordering Mobile App
Nowadays, the #1 marketing strategy is building a strong and solid online presence. Restaurant owners do their best to get ahead of their competitors online by creating websites, enhancing social media presence, bringing in influencers, and developing custom mobile apps. Since the smartphone became a vital part of people's daily life, more and more restaurant owners are taking advantage of it.
Dining trends in digital marketing
People preferences have changed over the time. Nowadays, 10% of smartphone users will research restaurant's menu options, reviews and prices before visiting the place, but how many people use smartphones in the North America on daily basis? According to Statista, 92% of mobile users own a smartphone and with numbers constantly growing – turns them into potential users of mobile applications.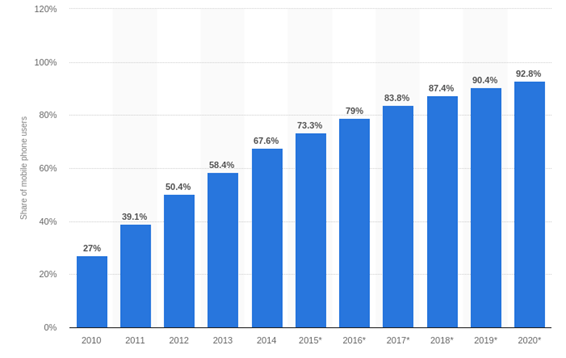 One more research by IAB found out that almost 70% of people turn to their smartphones and tablets to order some food when are hungry. Moreover, 50% of savvy mobile users have at least one restaurant app downloaded on their device, while 55% have also "multi-restaurant" review app like Yelp.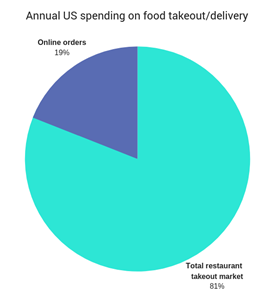 This chart is a perfect proof of the huge marketplace waiting for your restaurant app.
TOP 5 Features of a Restaurant App, that users expect today
Menu. Having a comprehensible, clear, and easy to navigate menu is a must for restaurants both websites and mobile apps. The rationale behind it is that a hungry person leaves quickly and it's more likely that won't leave an order or book a table if the menu positions are hard to read or the prices aren't indicated.
Online booking. Calling a restaurant to book a table doesn't work anymore. Customers want to easily make a reservation directly through the website or via mobile app in a few clicks without any human interaction, and not spend minutes on finding the restaurant's phone number, waiting for someone to pick up the phone, and explaining table preferences. Restaurant owners, on their part, will save on payroll for an individual supposed to be in charge of getting calls, spelling customer's names properly, and thinking on how to accommodate all the guests together by managing the waiting list.
Delivery and takeaway service. Ordering food via mobile apps is trendy, handy, and error-free, considering the zero human interaction when ordering food or booking a table. Say goodbye to long queues and annoyed customers at your place, by allowing them to make their in-app orders and monitor the preparation time for just in time pick up.
Loyalty and referral programs. Everyone loves discounts, free drinks or complimentary dishes, but how are you making your customers remember about your loyalty program and use it on a regular basis? Print coupons or emails are good practices, but keeping all promotions in the customer's smartphone is much more effective. Scanning the virtual coupon from the user's screen will take seconds and will leave the customer pleased and your customer retention rates constantly growing.
Push Notifications. Is the meal ready for takeaway? Are you giving any special birthday gifts or maybe having a new product to advertise? You can easily reach all the customers with your app by using push notifications. It's considered that push notifications have the higher view and click-through ratios than emails which often may land in the spam folder. Push notifications are free, short, informative, and shown right on the screen, without even having the app open. A once a week push notification is enough to keep your customers engaged and close to your business.
How can your business leverage from a Restaurant App Development?
Reach your audience and engage with it. Implementing technology in your restaurant business allows you to get into the customer's pocket literally. Keeping the loyalty program directly in smartphones allows customers to get best offers easily and share them with their friends. Word-of-mouth is the most reliable and trustworthy marketing channel in any business. Just create the promotions – people would love to share.
Know your audience. Asking for more preferences and info during the user registration, will allow you to discover users' tastes and create custom offers – increasing your brand loyalty.
Optimize booking and delivery process. When you have all the order information on your screen, there are no chances to make a mistake in the name, address, or the order itself. Forget about the bad connection or misspelling, both customers and employees benefit from online booking and ordering.
Conclusion
The power of online presence is huge. When most of your competitors focus on their websites, go ahead and think about a mobile app for your business. Growing a restaurant business is not only about attracting new visitors, but also about retaining the existing customers. If you are thinking of developing a custom mobile app for your restaurant, but are not sure where to start, feel free to contact us anytime.