What is Predictive Modeling in Healthcare? Part 1
Predictive modeling is statistical methods and deals with data mining, and game theory to analyze current and historical data collected at the medical establishment. These data help to improve patient care and ensure favorable health outcomes. Based on medical record information, age, social and economic characteristics, individual anatomy, and many other factors, predictive analysis can reveal patients' susceptibility to such diseases as diabetes, asthma, and other lifestyle-related conditions.
When building a predictive model, data analytics is used for finding similar patterns in behavior and forecasting people's responses or actions to occurring events. The world's largest medical organizations are on their way to integrating advanced practices such as predictive analysis, simulation, and variable modeling. The end goal with using these practices is the optimization of decision-making, problem-solving, identifying opportunities for improving the health system.
Predictive Tools Usage Statistics
One of the most prominent cases of using predictive analytics was Parkland Health & Hospital System. In 2009, Parkland started analyzing electronic medical records to decrease readmission rates of patients suffering from congestive heart failure. Shortly after that, the hospital began applying the models forecasting high readmission risk in patients with diagnosed pneumonia, diabetes, and heart attack.
In 2019, the Society of Actuaries (SOA) presented the report on predictive analytics in healthcare to figure out healthcare providers' expectations for the future. The results showed that 60% of respondents were already using predictive tools in their systems to improve KPIs in hospitals, clinics, and health insurance companies. 20% had planned to implement prognostic models within 2020.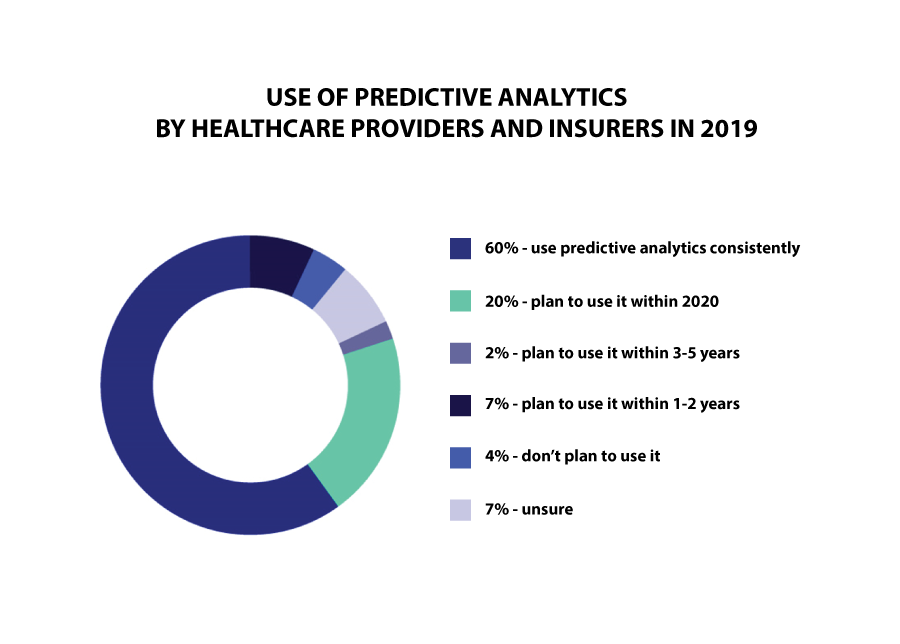 Healthcare companies are always under high pressure because of the numerous risks that the medical industry has to deal with every day. The implementation of high-accuracy predictive technologies allows them to put this pressure down by eliminating mistakes that, in the worst scenario, can cost human lives. Besides, predictive modeling provides ways for healthcare organizations to improve both public and personal medical care.
The global crisis of 2020 has shown that the industry needs predictive solutions more than ever to become able to prevent outbreaks of dangerous diseases throughout the world and ultimately the demand for forecasting technology increased as a response to the global crisis. The next part of this article will tell you about the examples of how predictive powers are currently used in different fields of medicine.