VELLGUS elite
$589.00
SHOP THE #1 RATED RED LIGHT DEVICE
The Vellgus Red Light Elite is an incredible way to experience the benefits of multiwave technology 630nm, 660nm, 810nm, 830nm, 850nm. With a powerful and portable design, low EMF and no flicker, this device is perfect for full or half body treatments. Featuring high power output, safe & easy to use operation, timer settings, stand and door hook included in the box, quiet cooling fan and digital display with smart screen, this advanced device is perfect for the modern user wanting an UV-free treatment at home.
    30 Day Risk-Free Trial
Try your red light with peace of mind.
    Current delivery time
All orders will ship in 2-4 business days
Description
Reduce Acne and Acne Scaring
Enhance Health and Wellness
Improve Muscle Recovery
Improve Sexual Performance
Relieve Pain and Improve Joint Health
Increase Collagen Production
Improve Mood and Energy Levels
Reverse Skin Aging
Reduce Inflammation
Improve Wound Healing
Improve Sleep and Circadian Rhythm
Increase Melatonin Levels
Multiwave+ Technology: 630nm, 660nm, 810nm, 830nm, 850nm
 Pulsing+ Mode
 Dimming+ Mode 
High Power Output Device
Safe & easy to use for everyone
Timer settings 
Stand Included in the box
1 Cooling fan
Digital Display with Smart Screen
Fits in any handbag
Warranty 2 years
Wavelength: 660nm (Red) & 850nm (Near Infrared)
LED Quantity: 60x5W
Weight: 2.6 kg
Dimensions: 10.23in*7.87in*2.5in (26cm*20.cm*6.5cm)
Irradiance >245 mW/cm2
Light Output: 5 Watt*60
EMF Emission is 0.00 at 4 inches
Treatment Target Area: Half body
1*Vellgus Red Light Elite
1*Table Stand Integrated
1* Door Hook
1* Wire Rope
1* Lift Rope
1*Plug with 1.5m cable
1* Goggles
1* User Manual
1* Remote Control
Click HERE for Treatment Guidelines Page.

HOW
RED & INFRARED LIGHT THERAPY WORKS
Red Light Therapy (aka photobiomodulation) is the science of light and its impact on our biology.
All the benefits of Red Light Therapy comes from the following process:
1. The Right Light Spectrum
The red (660nm) and near-infrared  (850nm) spectrum are scientifically proven to excite the key enzyme Cytochrome (CCO) and the mitochondria of the cell.
2. Boost In Cellular Energy
Once Cytochrome is saturated with the 660nm and 850nm spectrum, the inhibitory Nitric Oxide is reduced and Oxygen is increased. This leaves place fro the Mitochondria to produce more Adenosine Triphosphate (ATP), which is the energy the cells use.
3. Anti-Inflammatory Properties
The now oxygen-rich blood travels through the brain and body and reduces overall inflammation. Cellular functions are optimized which helps the optimal functioning of our biochemistry.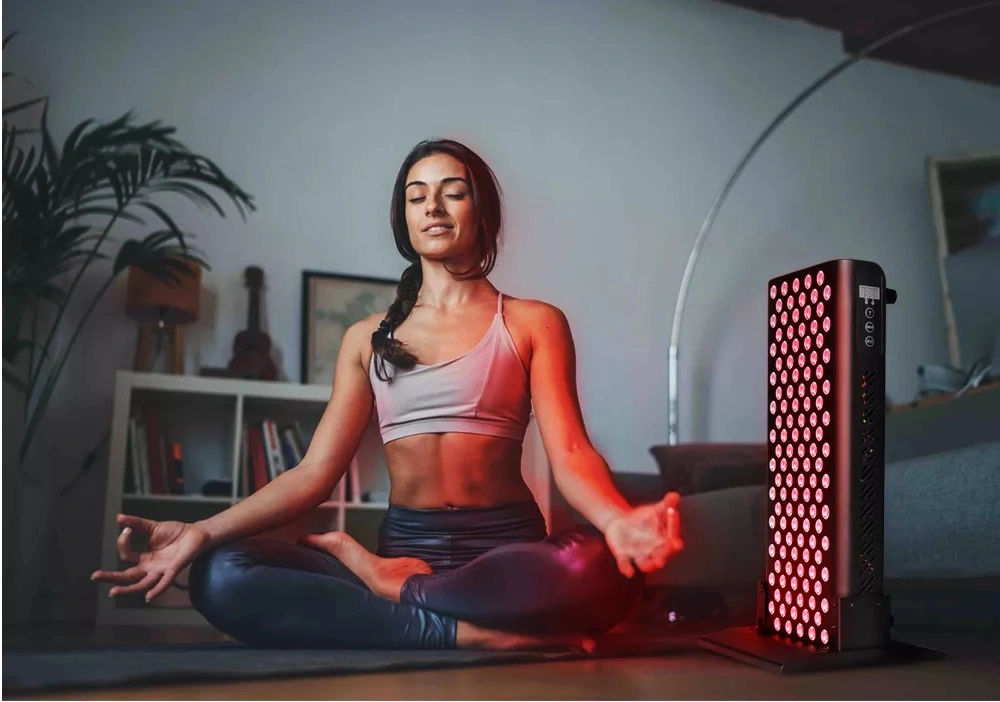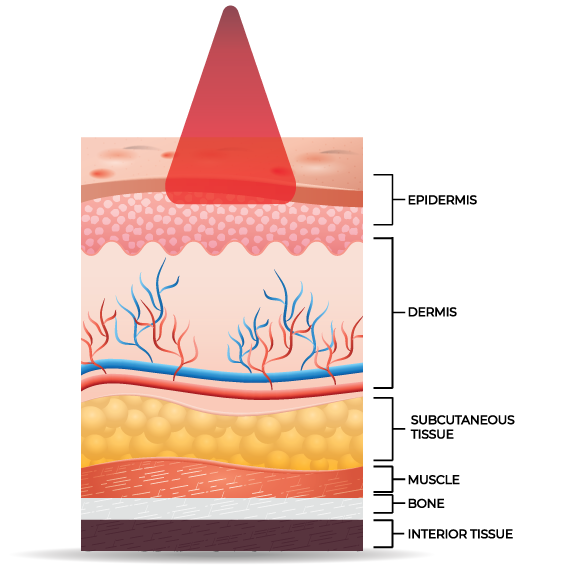 The 630nm wavelength is ideal for targeting all manner of skin concerns.
REDUCE FINE LINES & WRINKLES
In one study, the 630nm wavelength was combined with other beauty treatments such as microneedling to create a statistically significant improvement in photodamage, fine lines and sagging.
HAIR REGROWTH Red light therapy containing the 630nm wavelength has been proven to be a safe and effective method of stimulating hair growth in both men and women.
THE TREATMENT OF ACNE
The 630nm wavelength has also been shown to help reduce inflammation and breakouts.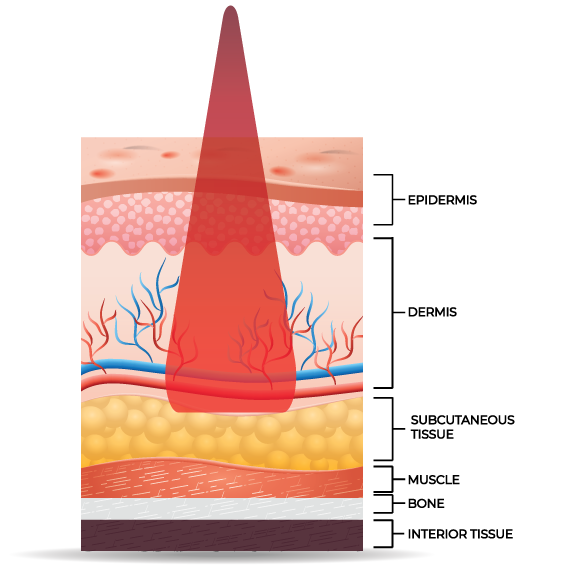 Penetrating just a little deeper than the 630nm wavelength, the 660nm reaches into the entire range of the skin tissue to promote healing and regeneration.
REDUCED TRAINING FATIGUE
The 660nm wavelength teamed with the 830nm near-infrared wavelength has been proven to delay the development of fatigue in the muscles, and enhance skeletal muscle performance. (Athletes, take note.)
REDUCED INFLAMMATION: In a study investigating the effects of red light therapy on pleurisy, the 660nm wavelength was found to induce an anti-inflammatory effect.
IMPROVED BONE HEALING Improved bone healing: The 660nm wavelength encourages resorption and formation in the bone cells around the location where repair is needed, without causing any change to the bone structure.
REDUCED SWELLING FOLLOWING INJURY
In one study, the 660 nm wavelength was found to reduce both inflammation and swelling by reducing the number of inflammatory cells which lead to the formation of swelling.
REDUCED NEUROPATHIC PAIN
A study investigating sciatic nerve pain in rats found that the 660 nm wavelength significantly helped to reduce pain.
ACCELERATED WOUND HEALING
The 660 nm wavelength has been proven to increase the formation of new blood vessels and enhance collagen deposition to help in the healing of wound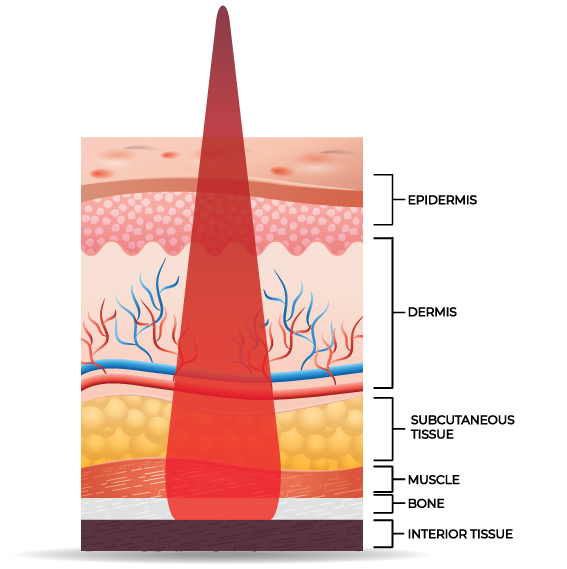 With an ability to extend through the skull into the brain, the 810nm wavelength offers a unique array of neurological benefits. Many forward-thinking scientists are of the belief that light therapy for brain disorders will become a prominent medical treatment in the near future. Expect to reap the following benefits from the 810nm wavelength:
Improved healing and recovery:
A study of soccer players showed that the 810nm wavelength applied before activity enhanced muscular performance and post-exercise recovery.
Accelerated wound healing: 810nm wavelengths have been shown to help expedite wound healing, helping the tissue to granulate more rapidly.
Improved recovery from stroke in certain patients: One study conducted among stroke patients showed that wavelengths of 810nm provided neuroprotective benefits and improved recovery among sufferers of moderate to severe strokes. Five days after the stroke, there was significant improvement among those who had been treated with the 810nm light therapy, compared to those who hadn't. Ninety days post-stroke, 70% of the treated patients had a successful outcome, compared with only 51% of the control group.
Improved recovery from traumatic brain injury: 810nm has been proven in animal models to be particularly effective in fostering recovery from traumatic brain injuries, and reducing long-term neurological damage.
Improvement in psychiatric disorders: Prescription drugs for psychiatric conditions have long been recognized as having a limited ability to assist individuals suffering from psychiatric conditions. What's more, pharmacotherapeutic medication often carries a host of unwanted side effects, while near-infrared light therapy doesn't. 810nm wavelengths applied to the forehead have been shown to assist patients suffering from major depression and anxiety.
Hair growth:
Studies have shown the 810nm wavelength can encourage significant hair growth in patients with androgenetic alopecia.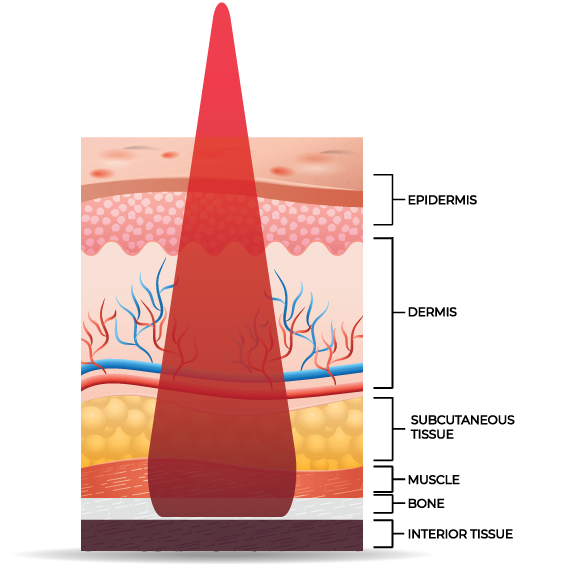 The 830nm wavelength is not as readily absorbed by the body, therefore it is able to penetrate deeper through skin and tissue and into the bone. A greater quantity of photons are delivered into the tissue with the 830nm wavelength. 
Accelerated healing and reduced infection:
Like the 810nm wavelength, 830nm accelerates healing in wounds of different severity and helps to ward off infection.
Improved aesthetic outcomes following plastic surgery: Swift exposure to 830nm wavelengths after aesthetic surgery hastens recovery, reduces downtime and enhances the results of surgery by reducing swelling, infection, bruising and pain, therefore leading to greater patient satisfaction.
Increased endorphins: 830nm wavelengths increases the release of endorphins. Endorphins are peptides which promote feelings of wellness.
Improved bone repair and growth:
An animal study demonstrated that 830nm light therapy improved bone repair by stimulating new bone growth.
Improvement in psychiatric disorders:
Prescription drugs for psychiatric conditions have long been recognized as having a limited ability to assist individuals suffering from psychiatric conditions. What's more, pharmacotherapeutic medication often carries a host of unwanted side effects, while near-infrared light therapy doesn't. 810nm wavelengths applied to the forehead have been shown to assist patients suffering from major depression and anxiety.
Faster return-to-play after injury:
The ability to return-to-play as swiftly as possible after injury or trauma is a key concern for any amateur or professional athlete. 830nm LED light therapy has been proven to significantly and safely reduce the wait time before injured athletes can return to play.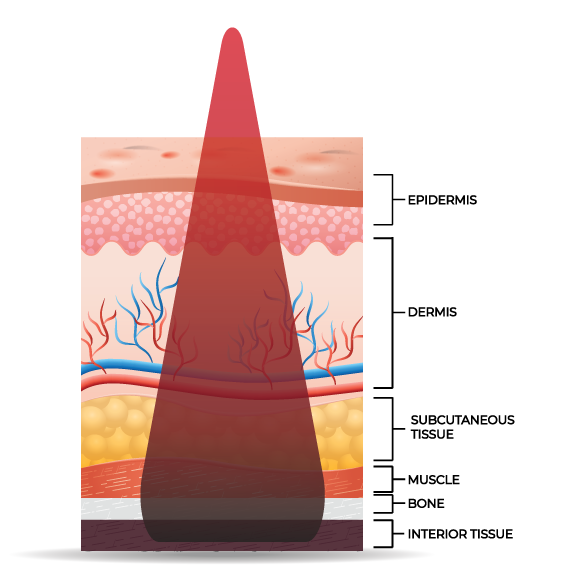 In many cases, the 850nm amplifies the benefits provided by the 810nm and 830nm wavelengths. This wavelength has a range of therapeutic applications such as:
Anti-inflammatory benefits:
850nm wavelengths can help to reduce joint and muscle pain and diminish general inflammation in the body.
Enhanced muscle recovery:
A study observed the use of 850nm wavelengths on athletes, and found that usage of the near-infrared light increased muscle mass after training, and decreased inflammation and oxidative stress in muscle biopsies.
Healing of wounds in the skin:
Lesions in the skin heal faster when exposed to 850nm wavelength light therapy.
Reduction of lines, wrinkles, and hyperpigmentation:
850nm can support the production of collagen, assisting with plumper, more radiant-looking skin, and a more uniform texture.
Orthodontics and tooth alignment:
The use of the 850nm wavelength can foster the speedy realignment of teeth for patients undergoing orthodontics.
Great Product Good Work
It works very well with a very good timer, easy to use. Very sturdy, you can use it hanging from the door.. I use it mostly for my legs. But also on my face and core.
Amazing healing!
Nothing beats the convenience of being able to do your own skincare treatments at home with the help of this red light device. So happy with my purchase!
I look 10 years younger!
I bought the elite lamp of the two because I felt it a large investment. Having seen the result I wish I had bought the larger one ! If you are disciplined and use it regularly you will see results
This red light, is red magic
Right away I felt better and within a month there was a noticeable difference in my level of pain as well as the swelling from arthritis in my hands. Slept better, less pain, and more relaxed. Red light therapy for the win!
Amazing product!
since incorporating this into my routine, I've noticed a huge improvement in my mood. It's so calming and soothing to use and it has really changed the way I feel about myself. A must-have for those struggling with depression and anxiety for years
Fast shipping
Just received and will update later.